We're excited to report the publication of a new paper in Scientific Reports that's authored by our team here at Iconeus, on the development of a vascular brain positioning system (BPS™) – in essence, a 'GPS for the brain'.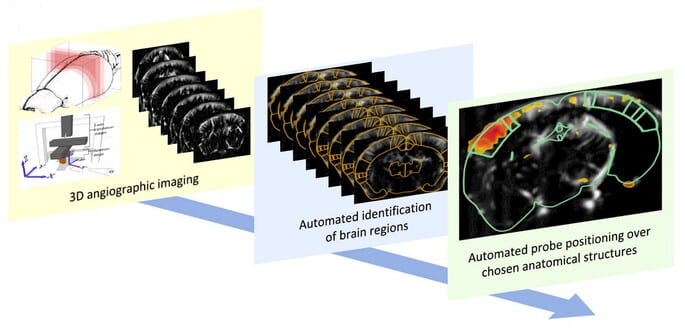 Functional ultrasound (fUS) imaging using our Iconeus One system relies on ultrasensitive Doppler to measure blood flows in the brain. But because this method provides information on the blood vessels rather than the brain structures themselves, identifying specific brain areas can be tricky.
In this article, we've described a new approach that cross-references angiographic images to a reference template of the mouse brain (the Allen Mouse Brain Atlas, which is incorporated into the software for Iconeus One). Importantly for researchers, this process is automatic, which means that it's not necessary to be an expert to achieve good results. In addition, the article shows that using this approach gives more accurate results than manual alignment of scans.
An obvious application of this approach is to allow 'live' probe positioning, and to improve precision, to allow even the smallest cerebral structures to be targeted. It could also help standardize acquisitions and so allow large, reproducible fUS datasets to be constructed. Looking into the future, this method could even be used to guide needles, electrodes and optical fibers deep into the brain. So this is an exciting development with considerable potential to accelerate the use of fUS.
Reference:
M. Nouhoum, J. Ferrier, B.-F. Osmanski, N. Ialy-Radio, S. Pezet, M. Tanter and T. Deffieux, A functional ultrasound brain GPS for automatic vascular-based neuronavigation, Scientific Reports, 2021, 11: 15197.